Business
Costco Mattresses Recalled Due to Mold Concerns
About 48,000 mattresses sold at Costco are being recalled after hundreds of consumers reported mold growth, the Consumer Safety Product Commission announced on Thursday.
The mattresses, exclusively sold at Costco stores and on Costco.com, were manufactured by FXI under the Novaform brand name between January and June of this year.
These products were available in Costco stores in the San Francisco Bay region and the Northwest, as well as online, with prices ranging from $150 to $750.
Costco Pulls Mattresses Over Mold Reports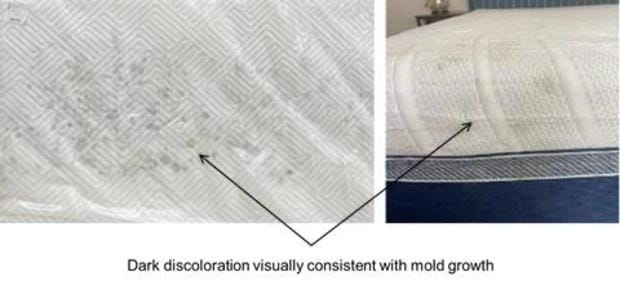 Foam inside the mattress might have been exposed to water during its manufacturing, allowing mold to develop.
This poses a potential health risk for people allergic to mold or those with compromised immune systems or damaged lungs. According to the CPSC, FXI received 541 reports from consumers about mold on the mattresses.
The recalled products are the Novaform ComfortGrande 14-inch and Novaform DreamAway 8-inch mattresses. The former has a blue base with "Novaform" printed in white letters, while the DreamAway features a gray base with "Novaform" in white.
Costco is also directly reaching out to customers who purchased the mattresses to inform them about the recall.
How to Obtain a Refund or Replacement
The CPSC stated that consumers should contact FXI for either a full refund or a free replacement mattress, including free delivery of the new mattress and pick up and disposal of the recalled item.
To claim the refund or replacement, consumers should call FXI at (888) 886-2057 from 8 a.m. to 8 p.m. Eastern time, Monday through Friday. They'll also need the so-called law tag from their mattress. This tag will determine if the mattress is covered by the recall.
Mattresses made in other facilities are not affected, the company clarified.
FXI, headquartered in Radnor, Pa., designs and manufactures mattresses, pillows, and other bedding products. The company operates 34 manufacturing facilities across the U.S. and Mexico.
Recalled Mattresses
Below are the mattress sizes and models subject to the recall:
DreamAway 8″ Mattress
Twin: 1698562 – $160/$150
Full: 1698564 – $210/$200
ComfortGrande 14″ Mattress
King: 1413200 – $700/$750
Cal King: 1413201 – $700
Queen: 1413202 – $580/$600
Full: 1413203 – $500
Twin: 1413204 – $400
With information from CBS News