Business
How to apply for emergency or expedited SNAP benefits
The Supplemental Nutrition Assistance Program (SNAP), grants a monthly subsidy for the purchase of food to all households that are eligible according to the criteria of the program, established by the federal government, as long as they have completed an application process through the appropriate state agency.
After completing the process, the agency in charge takes a certain period of time to analyze the eligibility of the case and process the application.
Read: Many Americans expect to use credit card rewards to travel in 2022
But in cases of extreme need, some applicants may be eligible for an accelerated SNAP process that consists of the approval of the benefits in the shortest time possible (approximately 7 days after the request).
How to apply for emergency or expedited SNAP benefits
There are several ways to apply for an expedited SNAP process, as long as you meet the eligibility criteria. In the state of New York, this procedure can be carried out in the following way:
1. Creating an online account at mybenefits.ny.gov to start an application process as prompted by the system.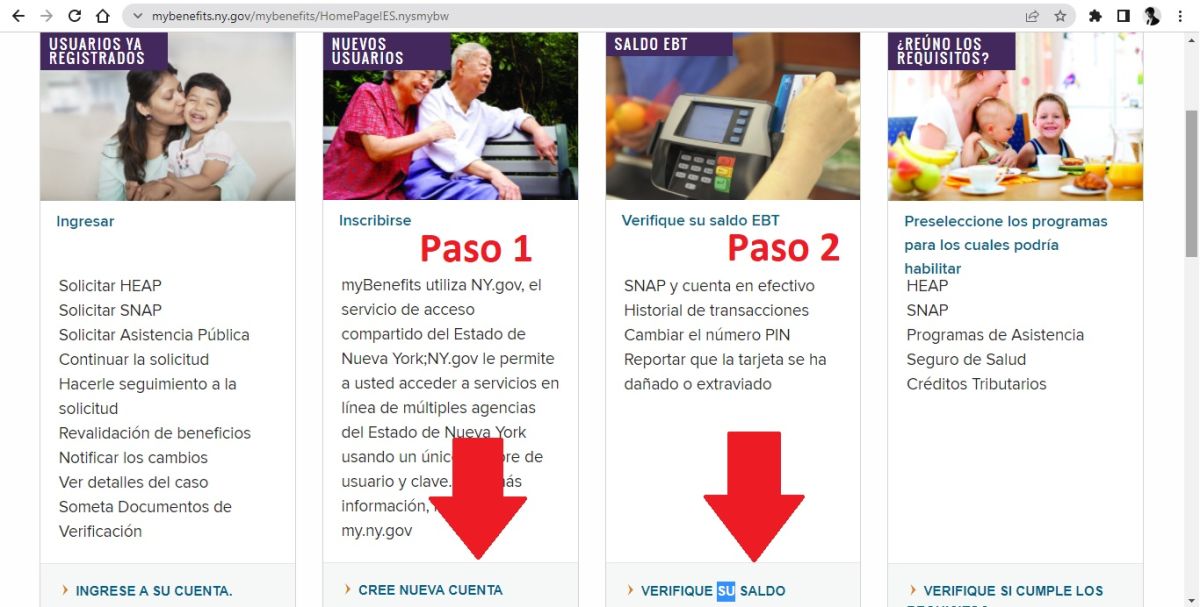 2. Going to a local Department of Social Services (DSS) Office.
3. Going to a local Office of Temporary and Disability Assistance (OTDA) office and stating that you need to apply for expedited SNAP.
4. Whichever modality you choose among the above, the applicant must complete an application form and grant an interview to guarantee their eligibility.
5. During the process, the applicant must verify her identity and provide a Social Security Number (SSN). Both requirements are likely to apply for each person living in the household.
6. DSS will also request proof of state residency, proof of income or resources, and possibly any other documents needed to prove that the applicant is eligible for benefits on an expedited basis.
What are the expedited SNAP eligibility requirements?
According to the Legal Aid Society, low-income people who need help buying food may be eligible for the expedited SNAP program if they meet the following criteria:
1. The household has $100 or less in liquid resources (money available for use).
2. Monthly receives less than $150 per month.
3. You are a migrant or seasonal farmworker household with $100 or less in liquid resources and:
You have not received any income since you applied for SNAP (and any other income you received during the month of application came from a source that has been terminated).
You may also be eligible if your only income for the month is from a new source, and no more than $25 of gross income will be received within 10 calendar days of applying for SNAP.
4. The combined monthly income and liquid resources of your household are less than the total of your monthly rent or mortgage and your heating and utility costs (electricity, telephone, and water).
After carrying out this process, the benefit will be granted in the next 7 days if the applicant is eligible. In extreme cases, where the applicant or her household lacks enough food to survive while waiting for benefits, the Department of Social Services may refer her case to a regional food bank to provide what she needs.
If you like this article about How to apply for emergency or expedited SNAP benefits, you can continue reading and also follow us on our social networks on Instagram, Facebook and Twitter.