Business
UAW Ramps Up Strike Against Stellantis, Halts Major Plant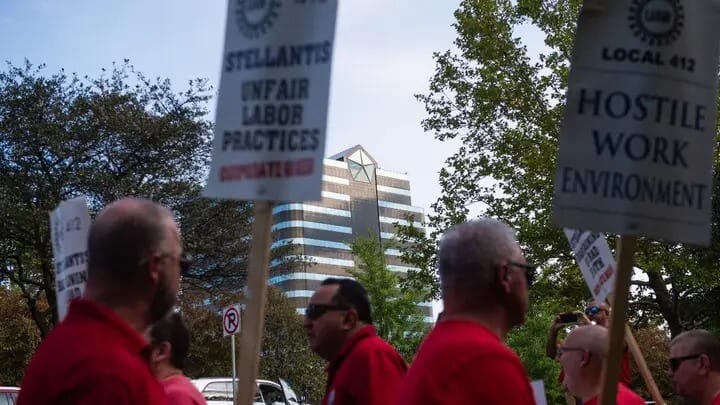 On Monday, the United Auto Workers (UAW) union escalated its ongoing strike against Detroit's Big Three automakers, this time targeting Stellantis' largest plant.
UAW has shut down Stellantis' Sterling Heights Assembly Plant in Michigan, meaning the 6,800 union members employed at the facility are now off the job, joining the picket lines.
UAW extends strike to Stellantis' key plant amid tensions
In a press release, the union pointed out that, despite having the highest revenue, highest profits (both North American and global), highest profit margins, and the most cash in reserve, Stellantis lags behind both Ford and General Motors in addressing the demands of their UAW workforce.
The union stated that currently, Stellantis has the "worst proposal on the table" regarding wage progression, temporary worker pay and conversion to full-time, cost-of-living adjustments (COLA), and more.
Shutdown impacts RAM 1500 truck production
The Sterling Heights facility is pivotal as it produces RAM 1500 trucks. This shutdown is a significant blow to Stellantis, which owns more than a dozen auto brands, including Dodge, Chrysler, and Jeep.
In a statement following the union's move, Stellantis expressed its outrage, noting that last Thursday it presented a new, improved offer to UAW, including a 23% wage increase over the life of the contract, nearly a 50% increase in contributions to the retirement savings plan, and additional job security protections.
Despite what seemed like productive conversations, the company has been awaiting a counter-proposal ever since.
Stellantis added that UAW's ongoing strategy of 'wounding' all the Detroit 3 will have "long-lasting consequences."
Escalating strike against Detroit's Big Three
UAW launched its simultaneous strike against Ford, General Motors, and Stellantis on Sept. 15, starting with one assembly plant at each of the Big Three.
Over time, the union has been steadily adding more strike targets as contract negotiations have dragged on.
With the inclusion of the Sterling Heights plant, there are now over 40,000 UAW members on strike at the Big Three, out of the nearly 150,000 total across the automakers.
With information from Fox News