Food
How to cook meat lasagna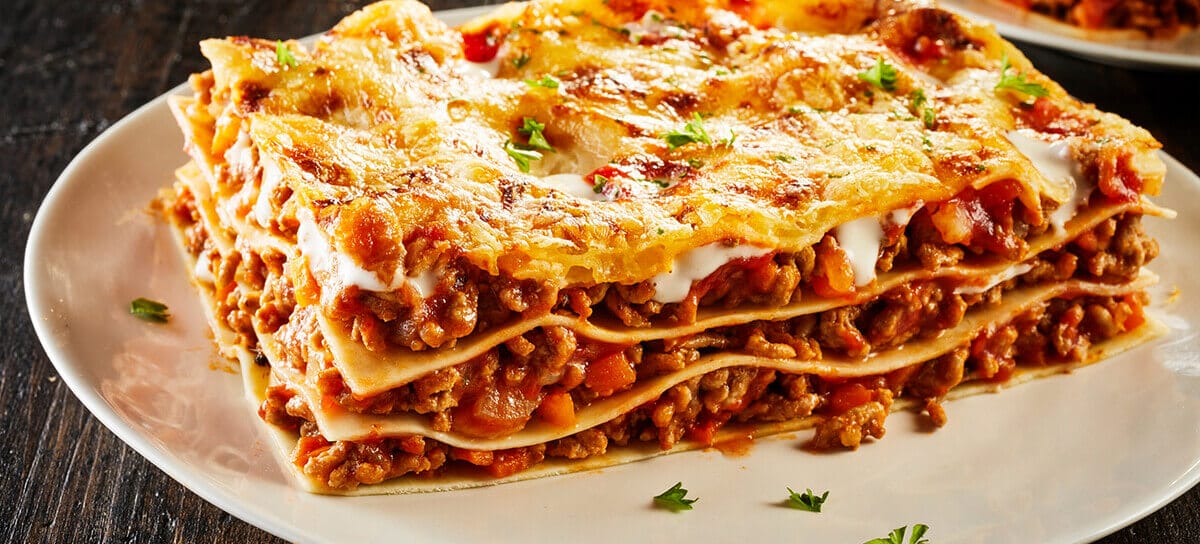 Lasagna is one of the most delicious and well-known Italian dishes all over the world, a classic homemade lasagna with a lot of cheese is always delicious, and you will just learn how to prepare it in this recipe.
This lasagna recipe is quite complete, it is important that when preparing the lasagna you use quality ingredients so that it is delicious.
Lasagna can be made with different fillings. For example, it can be made with vegetables, meat, different kinds of fish like tuna, or it can be made with shellfish. In this recipe we will make a classic meat lasagna.
Preparation of the lasagna
Ingredients: 
2 red peppers
2 carrots
2 garlic cloves
5 oz. bacon
2 large onions
8 oz. natural tomato
250 ml. of white wine
100 ml. of extra virgin olive oil
1 heaped teaspoon of dried oregano
Salt and freshly ground black pepper
17 oz. of meat (a mixture of pork and veal)
12 lasagna layers
4 oz. cheese
We put a pot of water on heat, and when it starts to boil, we put two handfuls of salt.
Then we are going to place the lasagna layers inside one by one. It is important that each sheet does not touch so that they do not stick. You could also try moisturizing the layers with bechamel sauce or baking sauce.
Take out the lasagna layer after 10 minutes. You can use a wooden spoon to make the job easier. Stretch each one on a sheet of absorbent kitchen paper.
Start washing all the vegetables to make the filling, here we will prepare the classic Bolognese sauce with carrots, garlic, peppers and onion.
How to make the lasagna filling
We start by cutting all the vegetables into small pieces, this will make them come together perfectly in the sauce. The carrot pieces have to be cut very fine. Keep everything in a bowl.
Place another pot and add extra virgin olive oil. Go introducing the onion and garlic, cook until the ingredients acquire a golden color and add the rest of the ingredients. Sauté at medium heat for 15 minutes.
Salt and pepper the meat and place it in the pot with the vegetables. Cook for 5 minutes and add a few pieces of bacon in very small pieces. Add a glass of white wine and wait for another 5 minutes over medium heat.
Add a cup of tomato, and add a teaspoon of oregano, a pinch of salt and pepper, taste the sauce until it is to taste. Mix the meat with the vegetables and remove from the heat. Let it cool.
Preheat the oven to 200º for 15 minutes.
How to assemble the lasagna
Place a few tablespoons of the bechamel sauce in the bottom. Place a layer of the meat filling on top, repeat the process 3 times.
You can make all the layers you want or as many as your tray allows. To finish, place a few tablespoons on top of bechamel, and sprinkle the cheese that you like the most.
Bake on the tray for 15 minutes at 180ºC.
Tips to prepare a delicious lasagna
Always remember that to prepare a delicious recipe, you must use quality ingredients.
Although for this recipe we use a type of classic sauce, the truth is that you can make and add the sauce that you like the most. You can add celery, asparagus or eggplant.