Food
How to make pancakes the perfect recipe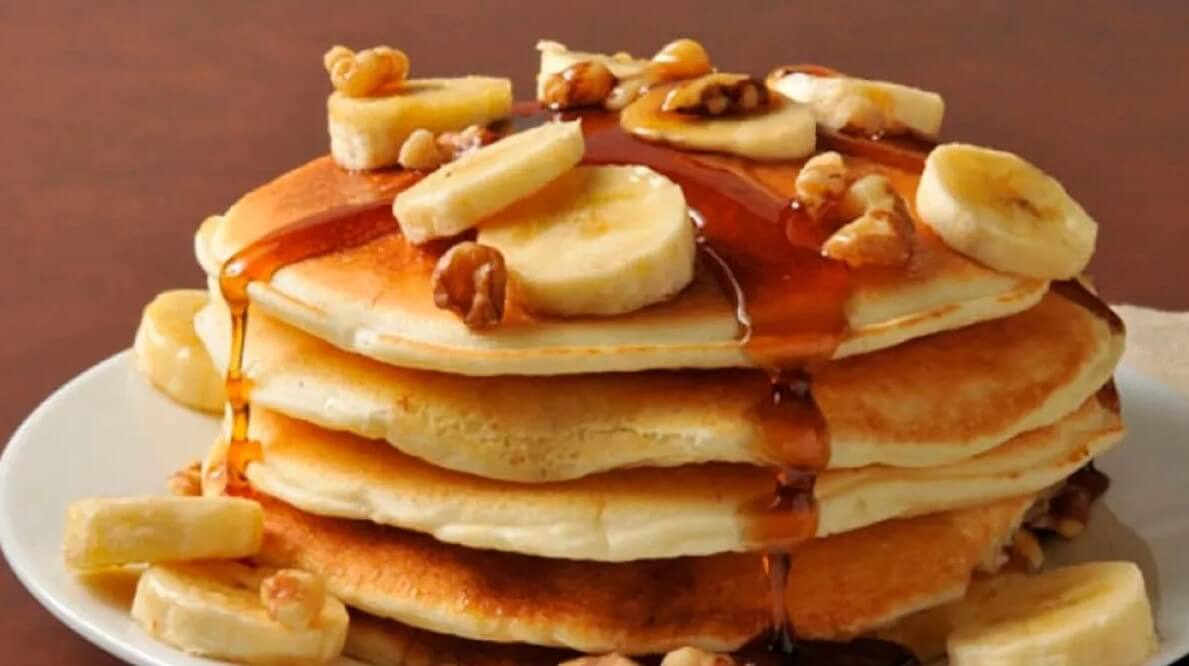 Making homemade pancakes from scratch can seem intimidating, but it's really quite simple to make. All you need is a few basic ingredients like baking soda or a blender to make the pancake mix, and a little bit of time. In this article, we will show you how to make pancakes every time.
When it comes to breakfast, there are few foods as iconic as pancakes. These fluffy pancakes of deliciousness can be enjoyed with a variety of different flavors, each one adding something unique to the meal. From sweet to savory. Use this recipe if you want the light and fluffy pancake ever.
Make homemade pancakes– The best pancake recipe tips and tricks
There is nothing quite like the smell of pancakes in the morning. They are a classic breakfast food that can be enjoyed with many different toppings and flavors. If you want to make your own pancakes, here are a few tips to help you prepare the easiest pancakes ever.
Ingredients:
1 cup all-purpose flour
1/2 teaspoon baking powder
Pinch of salt
1/4 cup vegetable oil or butter, melted
3 tablespoons sugar
2 large eggs
Instructions:
1. Sift together the flour, baking powder and salt.
2. In a separate bowl, whisk together the melted oil or butter and sugar until well combined.
3. Add the eggs one at a time, whisking until well combined after each addition.
4. Add the wet ingredients to the dry ingredients and mix until just combined. Do not overmix – pancakes will be tough if they are overmixed.
5. Cook pancakes on a lightly buttered or oiled griddle over medium heat for about 3-4 minutes per side, or until golden brown and cooked through. Serve hot with your favorite toppings!
Top your pancakes with something new and exciting!
There are endless possibilities when it comes to toppings for pancakes. Whether you're in the mood for something sweet or something savory, there's a topping for you. Here are a few of our favorite toppings:
Maple syrup is a classic topping for pancakes and it's always a hit.
Berry compote is a great way to add some fresh fruit to your pancakes.
Chocolate sauce makes for a delicious and decadent topping.
Basic pancake with chocolate
Make the perfect basic pancake with chocolate right in your own kitchen! This original recipe is the absolute best and will become a family favorite. Learn how to make these delicious homemade pancakes with ease. Not only are they incredibly tasty, but this is the best recipe and also surprisingly simple to create.
To make this recipe, begin by combining 1 cup of flour, 1 teaspoons of baking powder, a pinch of salt, and 2 tablespoons of sugar in a medium-sized mixing bowl. Once that's done, add 1 ¼ cups of milk and 1 egg into the same bowl and stir until everything is combined properly. Next, melt 3 or 4 small pieces of semi-sweet chocolate chips into the mixture before adding 2 tablespoons worth of melted butter as well. Finally, heat up an oiled skillet on low heat and spoon about ¼ cup worth of batter onto it for each pancake you intend to make.
How to make fluffy pancakes with banana
Making pancakes with banana is an easy and delicious recipe that will have everyone asking for seconds. This easy pancake recipe can be made quickly and easily, and will yield perfect pancakes every time. The key to this recipe is the homemade pancake batter, which only requires a few simple ingredients: flour, baking powder, salt, sugar, egg, milk and of course banana. With just these ingredients, you can whip up a perfect pancake in no time at all!
This basic recipe called for ripe bananas mashed into the batter mixture before cooking. When combined with the other ingredients, it creates a light and fluffy pancake that tastes as good as it looks. To get the most out of this delicious breakfast treat, it's important to use ripe bananas – they should have yellow skin with small brown spots. Adding some cinnamon or nutmeg to the mix also helps to enhance its flavor!
In conclusion, making pancakes is a very easy process that can be enjoyed by the whole family. By following these simple steps, you will have fluffy, delicious pancakes in no time. So go ahead and give it a try!
Read: How to make healthy vegan waffles for breakfast
If you like this article about How to make pancakes, you can continue reading and also follow us on our social networks on Instagram, Facebook and Twitter.