Food
How to make peanut butter brownies with just 2 ingredients
Today, We bring you an amazing recipe about How to make peanut butter brownies with just 2 ingredients. A delicious and easy-to-make snack that provides protein and other beneficial nutrients
With peanut butter you can prepare nutrient-rich, healthy and delicious desserts or snacks. One of the options is the brownies, for which you only require two ingredients, without flour, eggs or oil.
You also don't need an oven. A quick and simple recipe.
How to make peanut butter brownies with just 2 ingredients
Recipe developer Jennifer Lee and author of 5-Minute Mug Cakes and Dump Cakes from Scratch notes that you just need peanut butter and dates for brownies.
Dates are used as a natural sweetener and are also the ingredient that will give them a nice chewy texture.
How to make peanut butter brownies with just 2 ingredients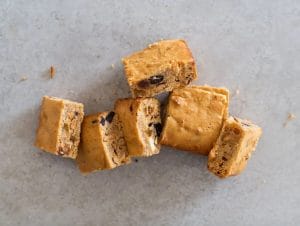 Today, We bring you an amazing recipe about How to make peanut butter brownies with just 2 ingredients. A delicious and easy-to-make snack that provides protein and other beneficial nutrients
Type: dessert
Cuisine: dessert
Keywords: Chocolat
Recipe Yield: 8
Preparation Time: 20M
Cooking Time: 40M
Total Time: 1H
Recipe Ingredients:
1/2 cup of natural unsweetened peanut butter. It should only contain peanuts and salt in the list of ingredients.
1 cup pitted Medjool dates
Recipe Instructions: Blend the dates until a paste forms. Add the peanut butter and mix until both ingredients are well incorporated. Place dough in 8 x 4-inch baking pan lined with parchment paper. Press down on the mixture with the palms of your hands until the dough reaches the desired thickness. Refrigerate the dough for 30 minutes to 1 hour. Slice and voila! Lee points out that if the used dates are old and no longer soft and moist, they need to be rehydrated first. To do this you must soak the dates in warm water for 15 minutes and then dry them a bit before using them.
A nutritious snack

Peanut butter provides vegetable protein, is also rich in good fats, and also offers essential vitamins and minerals, such as magnesium, zinc, vitamin E, niacin, and vitamin B6.
A two-tablespoon serving of peanut butter provides 7g of protein. The unsaturated fats in peanuts are considered good fats for heart health.
Read: How to prepare mini apple pies
Peanuts have several beneficial compounds for brain health, such as niacin, resveratrol, vitamin E and p-coumaric acid. Some studies suggest that eating peanuts or peanut butter as part of a healthy diet may help prevent age-related cognitive decline, as well as improve cognitive function and reduce stress in healthy young adults.
Peanut butter brownies are delicious and nutritious, but not low in sugar. Dates provide natural sugars. They are a fruit that has a high content of antioxidants, they also provide vitamins and minerals.
If you like this article about How to make peanut butter brownies with just 2 ingredients, you can continue reading and also follow us on our social networks on Instagram, Facebook and Twitter.
Source: ElDiarioNY