Food
How to make seafood paella at home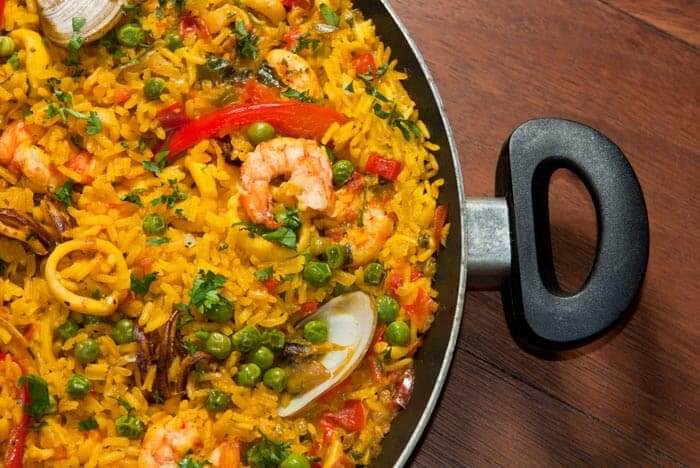 Seafood paella, also known as "arroz a la marinera" or "paella marinera," stands as a culinary masterpiece savored by many around the globe.
A hallmark of Spanish cuisine, this dish melds marine flavors with fresh ingredients, culminating in a dining experience that's second to none.
While it might seem daunting at first, with the right ingredients and by following our guide, you can recreate this delicacy in your own kitchen. Let's dive in!
Discover how to make seafood paella at home
Ingredients
2 cups of rice
4 cups of shrimp broth
1 lb of squid
1 lb of fresh shrimp
A handful of shellfish (clams and mussels)
1 onion
1 medium tomato
½ red bell pepper
2 garlic cloves
½ cup of peas
A bunch of fresh parsley leaves
Olive oil
Salt
Pepper
Yellow food coloring or a few saffron threads
Step-by-step preparation
Clean and peel the shrimp. Use the shells and heads to prepare the broth. Set aside.
Clean the squid and slice them into rings. Wash the shellfish to remove any sand.
In a paella pan or a large skillet, sauté the onion, garlic, bell pepper, and tomato in olive oil. Season with salt and pepper.
Add the squid and shellfish. Cook for a few minutes.
Stir in the rice and mix well. Pour in the shrimp broth and, if needed, some water.
Add the food coloring or saffron and bring to a boil for 3 minutes.
Incorporate the peas, shrimp, and chopped parsley. Adjust seasoning.
Continue cooking until most of the liquid has evaporated. Garnish with bell pepper strips and whole shrimp.
Lower the heat, cover, and simmer for 15 minutes. Serve drizzled with olive oil.
Seafood paella: Pro tips
Fresh shrimp are key for a flavorful broth.
The iconic color is achieved with saffron or yellow food coloring.
Mix and match seafood based on local availability.
If possible, add crab pieces for an extra flavor punch.
When serving, a drizzle of olive oil enhances the overall taste.
FAQ
Can I use other types of fish or seafood? Yes, you can tailor the recipe based on the seafood available in your area.
Is saffron necessary? No, but it imparts a distinct flavor and color. Yellow food coloring is a viable alternative.
What type of rice works best? A short or medium-grain rice that absorbs flavors well is recommended.
How do I know when the paella is ready? The rice should be tender, and most of the liquid should have evaporated.
Can I prepare it in advance? Paella is best served fresh, but you can prep some ingredients ahead of time.
Nutritional Information (per serving)
Calories: 450
Fat: 12g
Carbohydrates: 55g
Protein: 30g
Sodium: 800mg
Fiber: 4g
You may also like: How to Make Peruvian Ceviche Step by Step