News
DeSantis Pledges Billion-Dollar Budget to Preserve Florida's Environment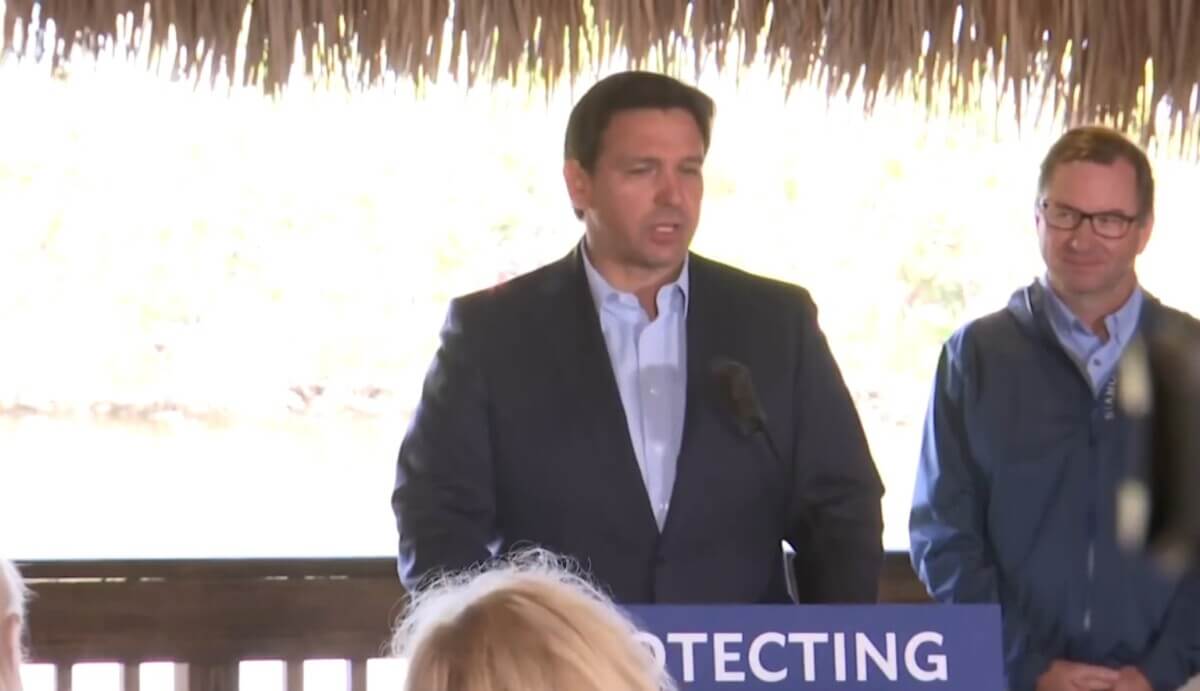 At an event hosted at Coconut Jack's Waterfront Grille in Bonita Springs, Florida Governor Ron DeSantis spoke about plans to protect the state's environment.
DeSantis recalled his promises on environmental protection upon taking office as governor, which he called an "important and far-reaching executive order" while recalling the importance of water to tourism and industry.
"I am pleased to say that we have fulfilled the promises we made that day, four years ago" declared the governor, as he recalled the day he took office and promised to enhance efforts to protect the environment.
The governor also assured that during four years, the South Florida Water Management District board had made more preservation efforts than at any other time in history, resulting in an increase in the record amount of water flowing into the Everglades, and other areas of South Florida.
Also, DeSantis stated that there was an increase in funding for the state's environmental protection by $1 billion during his first term.
"What we ended up doing in four years was not $2.5 billion, but $3.3 billion," DeSantis said. "Part of it is that we were really committed to making a difference, we had good partners in the legislature."
While the governor also recalled that the increase in funding came thanks to increased tourism numbers, which caused state revenues to increase and improved budget projections.
"That would not have happened if we had turned Florida into a Fauciville," DeSantis said. "It wouldn't have been possible, so we had to make sure we did the right thing."
1.7 billion of the total 3.3 billion went to protecting and enhancing the Everglades, a figure greater than the last 12 years combined.
"Since our efforts, we've been able to accelerate projects," DeSantis said, saying more than 50 projects had begun. "Of course, we've had fewer harmful discharges out of Lake Okeechobee in these last four years than in the previous four years."
1.6 billion was used to improve water flow and quality, DeSantis said, all made possible by collaboration with the Army Corps of Engineers and new technological innovations that made the job much easier. In addition, a grant was also awarded to divert septic systems to the state sewer.
"If you noticed when Ian came through, things that had been hardened or fortified more recently did much better," DeSantis said. "In fact, you wouldn't have had power in some areas for maybe six to eight weeks, but some of the substations had big improvements."
DeSantis plans environmental protection improvements in Florida
"We kept going, and we did it all the way through," DeSantis said. Telling the audience at the event that state officials were not in Bonita Springs to relax, but to build on their success. "Today, on the fourth anniversary of our original executive order, we are signing another executive order … to ensure that we continue our historic momentum and preserve Florida for future generations."
Among the accomplishments he expects with the new executive order, DeSantis promised:
$3.5 billion in total that will go toward environmental conservation over four years.
Create new strategies that will accelerate water quality restoration in Indian River Lagoon.
Expanding the wastewater grant program to include nonpoint sources and agricultural runoff.
In addition, DeSantis also assured that the South Florida Water Management District should focus on accelerating on Everglades restoration and conservation projects, including projects to reduce harmful discharges.
"We will also work to continue our progress toward reducing the frequency of algal blooms," DeSantis said, mentioning blue-green algae and red tide task forces established in previous efforts.
With information from: WFLA.com