News
Florida Poll Shows Trump Ahead of DeSantis for 2024 Election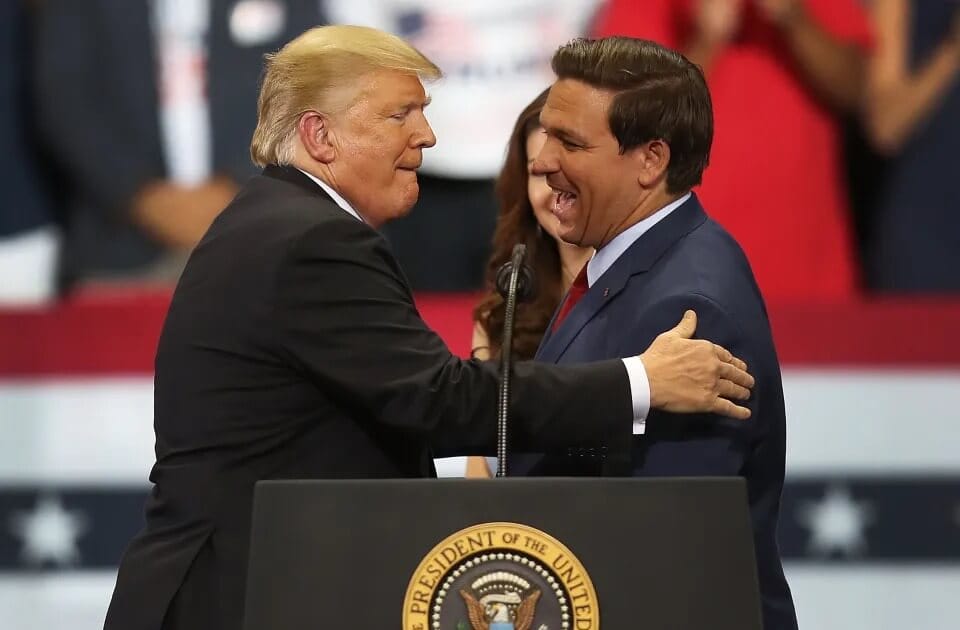 Pollster Victory Insights reported that former President Trump moved ahead of Governor DeSantis in voting intentions for the 2024 election.
The poll showed that Trump won the support of 46.6% of potential voters, in contrast to 31.8% of Ron DeSantis, while the remaining 21.6% expressed undecided support.
The results show that Donald Trump received 25.7 points in his favor following the poll conducted by Victory Insights last November when Trump announced his campaign and DeSantis was at his political peak following his re-election.
Trump has taken back Florida from DeSantis.

Our new poll finds Trump with a 15-point lead over the Florida Governor in the race for the 2024 GOP nomination.

Donald Trump is the undisputed frontrunner in Florida once again. Read the full report here: https://t.co/im1VZrvVOs pic.twitter.com/RTXRruy8dH

— Victory Insights (@VictoryPolling) April 10, 2023
At the time, pollsters were putting DeSantis ahead of Trump, with a 10.9% lead in Florida.
"Five months later, things have changed substantially," said Ben Galbraith, senior pollster at Victory Insights, in a statement.

"Several other candidates have announced their candidacies, and Trump has been indicted and arrested in a highly politicized move by the Manhattan district attorney. DeSantis has not yet officially announced his candidacy, but his messaging, book tour and PAC activity certainly point to a presidential bid in the coming months."
"However, it's starting to look more like an uphill battle than previously thought", Galbraith added.
For all the coverage our recent poll is getting, I'm surprised this section isn't a bigger part of the conversation.

One of the *only* demos DeSantis wins is those ranked 10/10 on the socioeconomic scale. Trump dominates the lower class. (1/2) pic.twitter.com/RKXaPzqacu

— Ben Galbraith (@_BenGalbraith) April 11, 2023
Trump appears to have been favored after pleading not guilty to 34 felonies last Tuesday, an indictment the former president called a "witch hunt."
Donald Trump's recent controversy with actress Stormy Daniels and her subsequent indictment may have given Trump a boost to his presidential campaign, raising more than 10 million days after being indicted.
According to the pollster, 90% of Republicans in Florida believe that the Trump indictment was politically motivated.
Although DeSantis has not publicly stated that he will be a candidate for the 2024 election, several sources claim that the governor may plan to participate.
However, until DeSantis runs, "Trump is the front-runner, and it is not even remotely close".