News
Hurricane Otis claims at least 27 lives in Mexico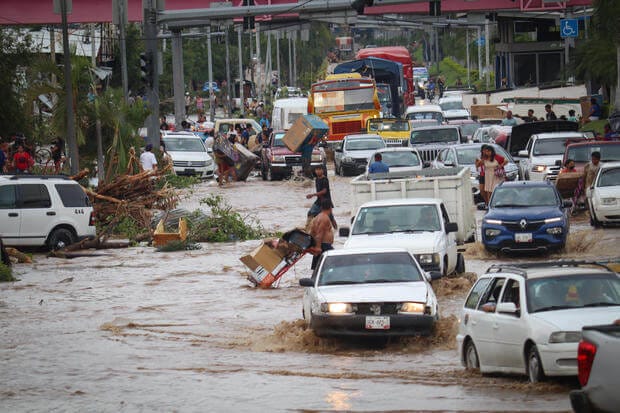 Hurricane Otis unleashed havoc and despair on Mexico's Pacific coast, with a preliminary toll of 27 dead and four missing announced by Mexican authorities on Thursday.
This natural phenomenon hit hard in Acapulco, leaving thousands of residents in damaged homes and without electricity, waiting for aid more than a day after Otis roared ashore.
Federal Security Secretary Rosa Icela Rodríguez confirmed the death and missing persons' toll during President Andrés Manuel López Obrador's morning news briefing, later corroborated by Guerrero state Governor Evelyn Salgado.
Destructive passage of Hurricane Otis in Mexico
López Obrador expressed his sorrow for the lives lost, emphasizing that restoring power to the area is a priority. He highlighted the magnitude of the destruction, pointing out that not a single power line pole remained standing in the impact zone.
Early images and accounts depict extensive devastation, with toppled trees and power lines lying in brown floodwaters, extending for miles in some areas.
The destruction delayed a comprehensive government response, leading to desperation among the residents. Many beachfront hotels in Acapulco appeared unrecognizable, with hundreds or possibly thousands of windows shattered after the Category 5 storm's passage.
Extensive Damage and Delayed Response
The frustration with authorities seemed widespread. Despite the deployment of around 10,000 military troops to the area, they lacked the tools to clear tons of mud and fallen trees from the streets. This situation led some residents to take what they needed from local stores, while security forces attempted to maintain order.
One individual staying at a beachfront hotel recounted the terror experienced during the storm. Another resident, Pablo Navarro, described how he thought he would die in his hotel room as windows and doors were ripped off by the wind.
Recovery Efforts and Historical Impact
Authorities have set up 25 temporary shelters in Acapulco, urging residents to seek shelter if their homes are at risk. However, recovery and damage assessment efforts continue amidst a desolate scenario.
Hurricane Otis left an indescribable mark on the tourist city of Acapulco, exacerbating the situation of a city already affected by violence and organized crime in recent years.
López Obrador made a comparison with Hurricane Pauline in 1997, which also hit Acapulco, emphasizing that Otis was stronger.
With information from CBS News