News
Mike Pence exits 2024 presidential race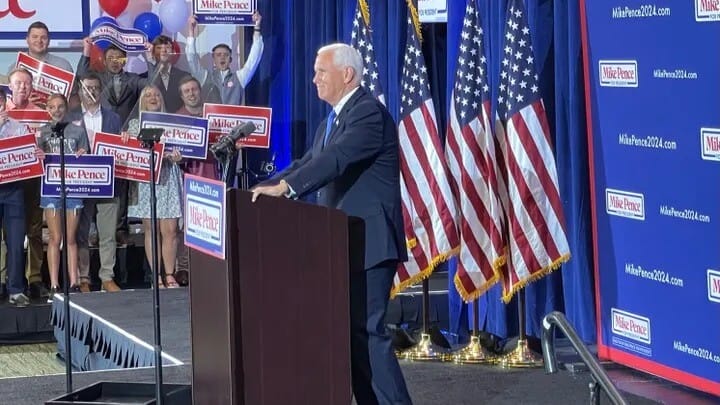 Former Vice President Mike Pence concluded his campaign for the 2024 GOP nomination this Saturday at the Republican Jewish Coalition in Las Vegas, receiving a standing ovation from the attendees.
"We always knew this would be an uphill battle, but I have no regrets," Pence said. "To the American people, I say this is not my time, but it's still your time. I urge you to hold fast to what matters most, faith, family, and the constitution of the United States."
Pence had faced hurdles in gaining traction in the race since entering the presidential fray, lagging in fundraising and languishing in polls. His announcement comes just before the third presidential debate on Nov. 8 in Miami, for which he had yet to qualify.
"I came here to say it's become clear to me: this was not my time. So after much prayer and deliberation, I have decided to suspend my campaign for president, effective today," Pence expressed in Las Vegas.
Even though he was ending his campaign, Pence vowed to continue supporting the cause of electing Republican leaders at every level of government. He did not indicate if he would endorse other Republican presidential candidates.
Pence's Fundraising Woes
Attempting to differentiate himself from his former boss without alienating a large swath of Trump voters proved to be a challenging task for Pence. His latest FEC filing in mid-October disclosed substantial debts and minimal individual donations.
Between June and September, he managed to raise $3.3 million, but his available cash on hand was limited to $1.2 million, leaving him grappling with a significant debt of approximately $620,000.
Pence focused his efforts on fundraising to secure a spot in the upcoming Republican debate in Miami on Nov. 8. So far, only four campaigns have said they qualified and are attending the debate: Former U.N. ambassador Nikki Haley, Florida Gov. Ron DeSantis, entrepreneur Vivek Ramaswamy, and former New Jersey Gov. Chris Christie.
With the deadline for filing for the South Carolina primary just three days away, the candidate's campaign had evaded inquiries from reporters about the filing process, which required a $50,000 fee.
Pence's Public Split with Former President Trump
Pence's split with Trump began after the 2020 election when he refused to overturn the election results at the joint session of Congress on Jan. 6, 2021, impacting his campaign. During the attack on the U.S. Capitol that day, rioters could be heard chanting "hang Mike Pence" and Pence was moved to a secure location.
Ultimately in the early hours of Jan. 7, after the joint session of Congress reconvened, Pence certified the election results. Trump long blamed Pence for refusing to back his plans to overturn the election results, causing Pence to have to publicly rebuke Trump.
"There are those in our party who believe that as the presiding officer of the joint session of Congress that I possessed unilateral authority to reject Electoral College Votes. And I heard this week that President Trump said I had the right to overturn the election. President Trump is wrong," Pence said in 2022 during a speech in Florida to the Federalist Society. "I had no right to overturn the election."
Trump was indicted by a federal grand jury in August for his alleged role in trying to overturn the election results, and in the indictment, Pence is portrayed as a central figure in the attempt to resist Trump and his co-conspirators alleged schemes. The 45-page indictment mentions Pence's name or the "vice president" more than 100 times.
Biden Weighs In
Expressing his disapproval of the Pence campaign, President Biden made a pointed remark regarding the former vice president's position on abortion and his involvement in election denialism.
The Biden-Harris campaign also directed CBS to a post from a member of Biden's rapid response team.
"Since he left office Mike Pence campaigned for election deniers, led the charge for a nationwide abortion ban, and repeatedly called for slashing Social Security and Medicare," the post said. "Not an inch of daylight between the two of them, despite the endless spin from Pence world."
Other Republican Candidates Weigh In
After the news broke, several candidates sent out messages of support to the former Vice President. Notably, Vivek Ramaswamy, the biotech mogul, has not released a statement.
In an appearance on "Meet the Press" in August, Ramaswamy said he would "have done it very differently" on Jan. 6, and that he would have pushed "reforms" through Congress before the date of the joint session.
Trump also made no comments on his former running mate's decision to suspend his campaign.
During the first Republican debate on June 20 in Milwaukee, Wisconsin, most candidates on stage stood in solidarity with Pence's defense that he carried out his constitutional duties on Jan. 6.
On Saturday, former Arkansas Gov. Asa Hutchinson posted well wishes to Pence on X, moments after Pence's announcement.
"Susan and I wish Mike and Karen the best as they continue to fight for conservative values and serve America," Hutchinson wrote.
One of the earlier speakers at Saturday's event in Las Vegas, Republican hopeful Sen. Tim Scott of South Carolina said in a statement, "The Vice President has been a prayer partner, a friend, and a man of integrity and deep conviction. The Republican Party is stronger today because of Mike's leadership. I have no doubt Mike and Karen will continue to serve this nation and honor the Lord in all they do."
Also taking to X to comment, Christie said, "I am beyond grateful for everything Vice President @Mike_Pence has done for this country. He has consistently fought for American values from his time in Congress to his governorship and serving the American people as Vice President."
Another one of his former 2024 rivals, Haley, applauded Pence's time in government and commended his faith.
"He's been a good man of faith. He's been a good man of service. He has fought for America and he has fought for Israel and we all owe him a debt of gratitude," Haley said in a statement.
Joining his Republican rivals on X, DeSantis said,
Vice President Mike Pence is a principled man of faith who has worked tirelessly to advance the conservative cause. Casey and I appreciate Mike and Karen for their willingness to put themselves forward in this campaign and wish the Pence family well in their next steps.

— Ron DeSantis (@RonDeSantis) October 28, 2023
"Vice President Mike Pence is a principled man of faith who has worked tirelessly to advance the conservative cause. Casey and I appreciate Mike and Karen for their willingness to put themselves forward in this campaign and wish the Pence family well in their next steps."
"Thank you @Mike_Pence for your service and for having the courage to be in the arena! Wishing you and Karen the very best," Burgum wrote on X.
Thank you @Mike_Pence for your service and for having the courage to be in the arena! Wishing you and Karen the very best.

— Doug Burgum (Text "DOUG" to 70177) (@DougBurgum) October 28, 2023
With information from CBS News