News
Nearly 1,000 Birds Perish in Chicago Building Collision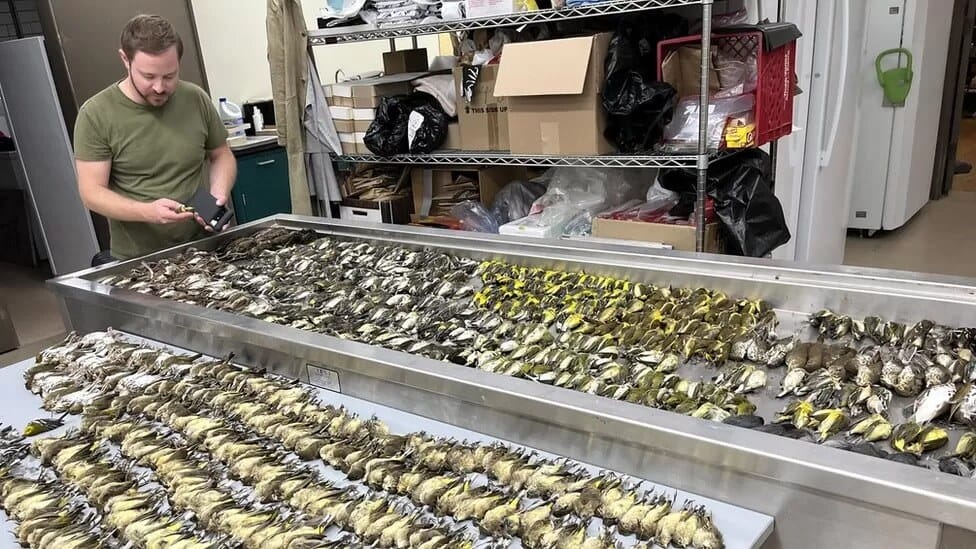 Last Wednesday, the city of Chicago witnessed a tragic incident where nearly a thousand birds perished after colliding with a building in a single day, a figure far surpassing those from previous migration seasons.
Experts attribute this tragic occurrence to an unusually large migration, adverse weather conditions, and the lack of "bird-friendly" features on buildings.
About 960 birds were discovered at the McCormick Place Lakeside Center. Activists have been urging buildings to turn off bright lights during the night, as these can disorient birds.
Unusual bird deaths in Chicago's McCormick Place Lakeside Center
Scientists and volunteers from the nearby Field Museum collected the birds. The museum monitors McCormick Place, the largest convention center in North America, for dead or injured birds.
Douglas Stotz, a conservation ecologist at the museum, mentioned to National Public Radio that "in one night we had a year's worth of death". He added that between 1,000 and 2,000 birds die each year after striking McCormick Place.
Annette Prince, the director of Chicago Bird Collision Monitors, reported that her group found 700 to 800 birds in a single square mile it monitors, describing the incident as a "very unusual and tragic occurrence".
In a statement on Instagram, McCormick Place acknowledged that an "extremely large" number of migratory birds had died "due to unusual weather conditions" and "avian confusion" caused by lights. Although lights are normally turned off at night, they were kept on for an event.
"The well-being of migratory birds is of high importance to us, and we are truly saddened by the incident," they added in the statement.
Previously, the highest daily total of dead birds recovered at the center was between 200 and 300.
Experts believe that an abnormally large number of birds were flying in and around Chicago and other parts of Cook County last Wednesday, taking advantage of low temperatures and favorable winds.
Birdcast, a tracking project by three US universities, estimated that nearly 1.5 million birds were in flight above Cook County on the night of October 5, when the deaths at McCormick Place occurred.
Around the same time, a storm passed over the city, forcing many of the birds to come down to the ground, where they face increased danger from lights and windows.
A 2019 study from Cornell University's Lab of Ornithology estimated that approximately 600 million birds die in building collisions in the US each year, with Chicago, Houston, and Dallas being the most dangerous cities.
With information from BBC