News
Surfer's Dramatic Encounter with Whale Caught on Video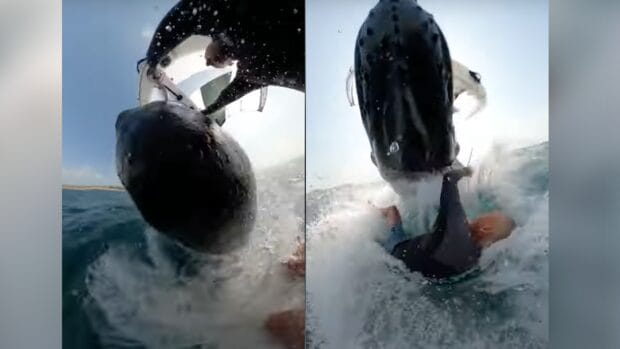 An Australian surfer had a "one in a million" encounter on the waters of Mona Vale Beach in Sydney.
Known among friends as "Jaws," Jason Breen was wing-foiling, a sport akin to windsurfing, when a whale suddenly breached and collided with him.
The dramatic moment was captured on video, thanks to a GoPro camera Breen had with him. "It just started to come up out of the water and I knew it was a whale," Breen told 9News Today in Australia.
The footage shows Breen wing-foiling when, out of nowhere, a whale leaps out of the water, making a direct hit on Breen's body.
Australian surfer collides with whale while wing-foiling in Sydney
"I'm in trouble," Breen thought as he saw the whale approaching, he told 9News. The video depicts Breen being knocked off his board and dragged underwater. He eventually resurfaced and got back on the board, managing to say on camera: "I just got hit by a whale."
The ordeal took a dangerous turn as the whale, upon landing on him, got tangled in his leg rope. "When it came down on top of me it got caught in my leg rope. So as it dived, I was getting dragged down,"
said the 55-year-old, revealing to the news outlet that he was pulled about 30 feet down.
"Luckily, I felt the leash break and from there I got released from under the whale's body and was able to come to surface, and thank my lucky stars that something that's not supposed to break broke and ringed the webbing out."
Breen also mentioned it's not uncommon for whales to have barnacles on their skin, which could have "ripped him apart" in this situation. Miraculously, he wasn't seriously injured, he told 9News, speculating that the whale was a juvenile as an adult whale could have made the situation a lot grimmer.
This "unusual, one in a million" encounter, as described by Breen, showcases the unpredictable vastness of the ocean. Besides, capturing this event on video was a stroke of luck, as apart from his GoPro, there was a person on a headland who was filming by coincidence.
"It's a massive ocean and there was a guy on a headland who just happened to be filming by coincidence, and my GoPro, I wasn't pointing or filming so to get the footage was amazing," he said.
With information from CBS News