News
Trump's Abortion Stance Sparks GOP Rift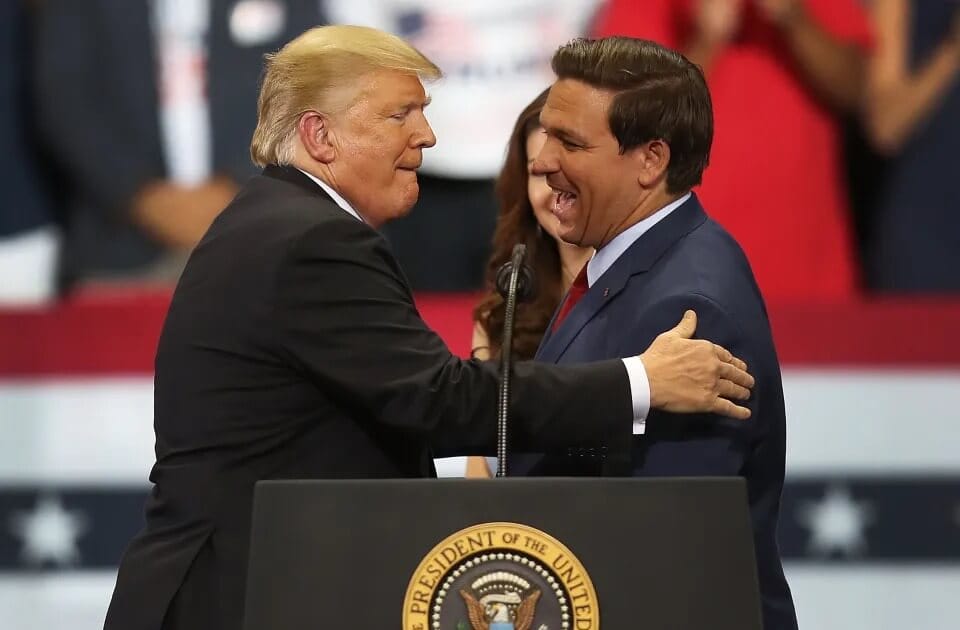 Donald Trump is facing backlash from anti-abortion activists for his reluctance to commit to national abortion restrictions and for labeling Florida Gov. Ron DeSantis' decision to enact a six-week abortion ban as a "terrible mistake."
On NBC's "Meet the Press", Trump consistently sidestepped questions about whether he'd support a federal abortion ban. He mentioned he could "live with" the procedure being banned either state-by-state or nationwide, but from a legal perspective, he believed it's "probably better" managed at the state level.
Regarding the bill DeSantis signed, Trump remarked, "I think what he did is a terrible thing and a terrible mistake."
Trump Criticizes Florida's Abortion Ban, Stirring GOP Tensions
So far, the former president has been a dominant figure for 2024, occasionally sidelining the anti-abortion groups that traditionally wield significant influence in Republican primaries. However, Trump's direct critique of DeSantis, perceived as his main competitor, might provide the Florida governor with fresh ammunition for his campaign.
On X, previously known as Twitter, DeSantis campaign spokesperson Bryan Griffin posted about Trump: "If you want to appease Democrats, here's your guy. If you want to defeat the Democrats in 2024, (DeSantis) is the only choice."
If you want to appease Democrats, here's your guy.

If you want to defeat the Democrats in 2024, @RonDeSantis is the only choice. https://t.co/7mQ3MqqSmq

— Bryan Griffin (@BryanDGriffin) September 17, 2023
Another spokesperson, Andrew Romeo, shared criticisms from conservative groups towards Trump, accusing him of repeatedly compromising with Democrats.
The nation's largest anti-abortion organization, which supports a national abortion ban at 15 weeks of pregnancy, promptly issued a statement saying any less restrictive measure "makes no sense."
Marjorie Dannenfelser, president of Susan B. Anthony Pro-Life America, stated, "We're at a moment where we need a human rights advocate, someone dedicated to saving the lives of children and serving mothers in need. Every single candidate should be clear on how they plan to do that."
The Supreme Court's decision to overturn Roe v. Wade has left abortion regulation up to individual states, leading to a patchwork of laws. Currently, 25 million childbearing-age women reside in states where obtaining an abortion has become more challenging since the ruling.
Trump has approached the abortion issue from a political angle, suggesting that the Supreme Court's decision offers conservatives a chance to negotiate new restrictions.
Banning abortion at six weeks, as Florida did earlier this year, is unpopular among the U.S. populace, as per an Associated Press-NORC poll. The survey revealed that 73% of all U.S. adults believe abortion should be permissible up to six weeks of pregnancy.
However, in Iowa's Republican caucuses, evangelicals and other socially conservative individuals, who are staunchly anti-abortion, make up the majority of participants.
Trump has branded himself as "the most pro-life president in American history" and highlighted that three of his Supreme Court nominations were part of the conservative majority that overturned Roe.
Some key state Republicans expressed their displeasure post-interview. Among them was South Carolina state Rep. John McCravy, who sponsored his state's recent restrictive abortion measure. In an interview, McCravy described himself as "certainly disappointed."
Kristen Waggoner, CEO of the conservative legal group Alliance Defending Freedom, also voiced her disagreement, posting on X, "Laws protecting the unborn are not a 'terrible mistake.' They are the hallmark of a just and moral society."
Laws protecting the unborn are not a "terrible mistake." They are the hallmark of a just and moral society. Governors who protect life should be applauded, not attacked. 

And while we're at it, men can't become women. This is also based on a simple biological reality and one… https://t.co/1NBSE4zhwn

— Kristen Waggoner (@KWaggonerADF) September 17, 2023
With information from CBS News