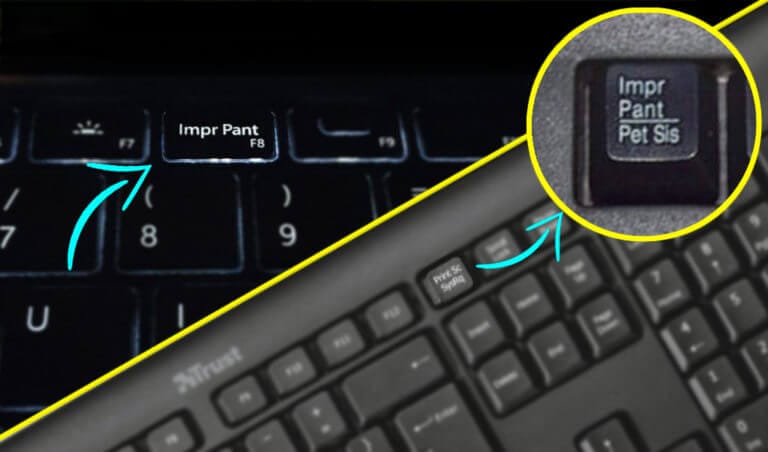 If you have ever had the doubt of how to screenshot on windows we present you some ways to do it easily and fast.
There are many ways to take a screenshot on Windows. We propose four of them. The simplest, most effective and, at the same time, practical.
The screenshot is possibly one of the most classic functions in computing, along with the copy and paste function or the possibility of saving a document while you are writing it.
Discover how to screenshot on windows
To begin with, there are even specialized applications to take screenshots, edit them, decorate them with graphic elements and, finally, save or share them on social networks or wherever you want.
First we are going to see how to take screenshots using the basic tools that windows brings by default.
1. Use the Print Screen key
current keyboards include a key called Print Screen. Its function is precisely to take a screenshot. You only have to press it once and it will make the corresponding capture. It's that simple.
This is the most minimalist option possible. The bad thing is that although a screenshot is generated, it will remain in the Windows Clipboard until you copy or cut something new. So if you want to save the screenshot in Windows you will have to do it by hand.
The good thing is that you can paste the screenshot into any Windows program, be it a blank image or an already created text document where you want to embed an image.
Windows 10 lets you spice up the Print Screen key. From Start > Settings > Accessibility > Keyboard you can make pressing the Print Screen key take a screenshot and/or open the Windows snipping bar.
2. Use the Print Screen + Windows key
If you press the Print Screen key on your keyboard next to the Windows key, you will be able to take a screenshot in Windows 10 that will be saved automatically. You will find the screenshots inside the Pictures folder of your user folder. That is, if you go to Libraries < Images > Screenshots you will find the screenshots made with this keyboard shortcut.
Every time you press Windows Key + Print Screen you will take a full screenshot of the entire screen. And, by default, the captures are saved in PNG image format, the ideal for this type of image.
Thanks to this method you can make the captures you want in a matter of seconds without having to worry about them. When you're done, all you have to do is go to the corresponding folder to check if you need to delete some of those screenshots, copy them, share them or edit them with another application.
3. Use the Windows 10 Snipping app
The third method to screenshot on windows is to go to the Snipping tool, one of the default ones in Windows 10 and that allows you to take custom screenshots.
You'll find the Snipping app along with the other tools on the Start menu. Also from the Windows 10 search engine or by pressing the Windows + Shift + S keys.
Among its advantages, the possibility of taking a rectangular, free-form or full-screen capture stands out. It is also possible to make a capture where only the window or dialog box that you have selected appears. All of these options are in the Snipping app's Mode drop-down menu.
Read: 3 new functions that you will soon find in WhatsApp Web for Windows
You can also take a screenshot in Windows 10 with a margin of a few seconds. To do this you will have to click on Defer.
Once the capture is done, you can edit it by writing on it using the available tools. And, when finished, you can save it or share it. You can also edit it with other image applications or photo retouching.
Finally, when you open Snipping you will have several keyboard shortcuts at your disposal. With ALT + M you choose a clipping mode. With ALT + N a new capture is created. And to save it, CTRL + S.
4. Use LightShot
LightShot is a third-party program that allows you to take screenshots at any point, it comes with some options such as basic shapes (squares, rectangles), even some fonts and colors.
A good thing about this program is that you can also designate any key to take the screenshot.
If you like this article about How to screenshot on windows, you can continue reading and also follow us on our social networks on Instagram, Facebook and Twitter.